We have a choice of 15 wax seal stamp head shapes and sizes ~ all made from solid brass
they all screw directly onto the same size handle and are interchangeable.

(images are not to scale)
The latest addition to our range is a new 40 and 50mm size round stamp head (photo not available), and is available for personalised designs only.
(please email your design prior to placing an order for this size stamp head.
22mm Round wax seal stamp head

17mm available on some designs

25mm Round wax seal stamp head

30mm Round wax seal stamp head

35mm Round wax seal stamp head
40 & 50mm also available.

Hexagon wax seal 22x25mm


Oval wax seal 16.5x24.5mm

Oval wax seal 18x26mm

Oval wax seal 25x35mm

Square wax seal 25mm
Plus New Rectangle 22x30mm

Diamond wax seal
28 x 34mm (across the points)
limited stock

Clover wax seal 25mm

Heart wax seal 25x22mm
NEW SHAPES AND SIZES - 40mm ROUND and 50mm ROUND STAMP HEAD - RECTANGULAR STAMP HEAD 22 x 30 mm
All stampheads as shown above are solid brass, made in Bilston, West Midlands, United Kingdom (Specifically for The Design Station Ltd)

We offer a choice of three handles designs, all with a French Polish Finish.
New Brass end style as shown is now available on all coin shapes with the exception of the LARGE Hexagon shapes.
NEW DESIGN - hand finished to a high standard french polish in Dark Wood or Red Mahogany (as shown on the order link)
ANTIQUE REPRODUCTION Design - hand finished to a high standard in Deep Mahogany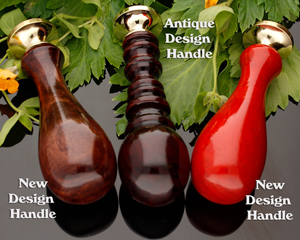 We do not import our seal ends or handles from China or the Far East